Spring in Chicago not only brings warmer temperatures but also beautiful flowers in and around Chicago for those that want to enjoy spending time outdoors or take photos for instagram. If you live in or are visiting Chicago this spring and googled "tulip fields near me" or "tulips in Chicago" you are in the right place. There are several places to see tulips in Chicago and the suburbs during the spring. If you are willing to drive a bit further, you can also find farms with large tulip fields and tulip festivals near Chicago that are close enough to visit on a day trip.
Tulips in the Chicago area usually bloom around mid to late April and last until mid to late May. Exacts dates vary every year do to weather conditions.
I suggest bookmarking this blog post as I will be updating it regularly.
Best Places to See Tulips in and near Chicago (2023)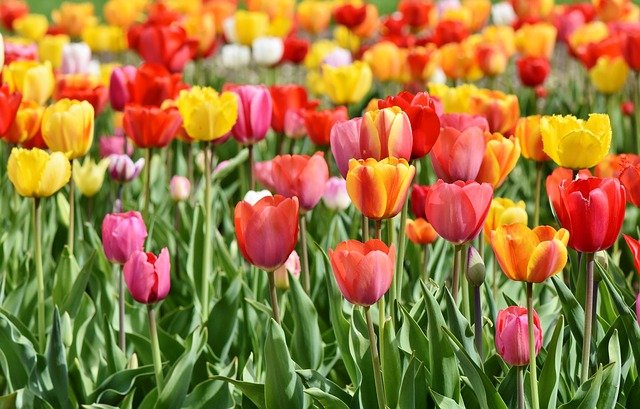 Below is a list of the best places to see tulips in and near Chicago. I have included all the information you need to plan your visit, including addresses, dates and times, prices, activities as well as links to relevant websites.
Note: Make sure to check the websites and social media pages for the most current information and to purchase tickets in advance (if required).
Tulips in Chicago
These are the best places to see tulips in the city.
Michigan Avenue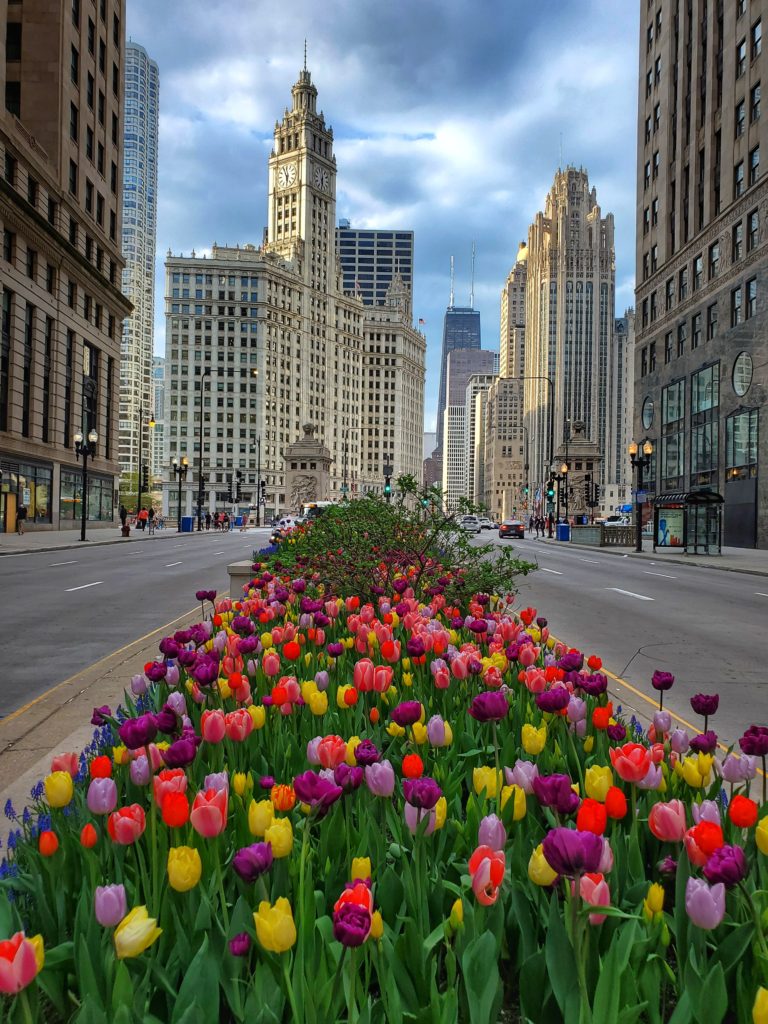 Every year tens of thousands of tulip bulbs are planted in the Michigan Avenue medians from Oak Street to Roosevelt Road.
This includes the medians in the Magnificent Mile (including in front of the 360 Observation Deck, the Water Tower and the Tribune Tower) as well as in front of the The Art Institute of Chicago.
Read this article for more about the history of the tulips on Michigan Avenue.
State Street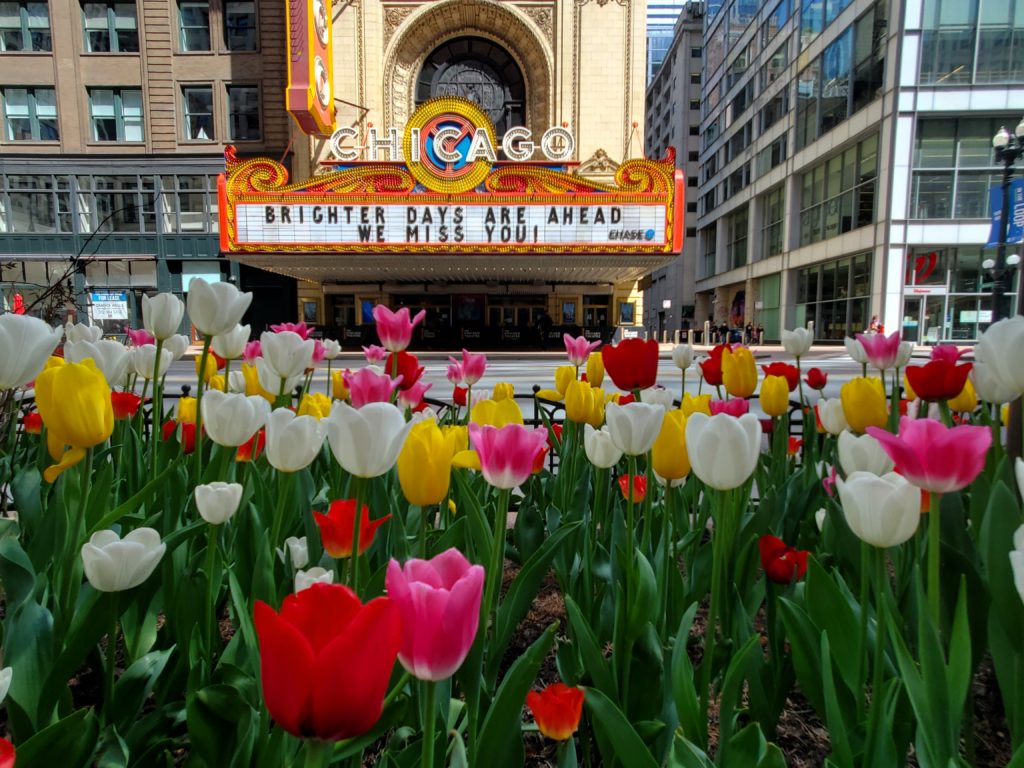 Although not as many as Michigan Avenue, you can also find some tulips on State Street in the Loop. There are some tulips on State Street between W Wacker Drive and Monroe – including right across the Chicago Theatre (a popular Chicago photo spot).
Tulip Gardens & Fields Near Chicago
Below is a list of the best places to see tulips near Chicago (listed in order of distance from downtown Chicago).
Chicago Botanic Garden
Oh, hello living color! ? Blooming now: Cheerful #tulips, in dramatic sweeps throughout the Garden. Track spring's superstars and plan your visit in advance: https://t.co/84tfKBwjcB #springshowtime pic.twitter.com/de6DRYKx5b

— Chicago Botanic Garden (@chicagobotanic) April 23, 2021
Chicago Botanic Garden is one of the world's great living museums and conservation science centers with 27 gardens and four natural areas, situated on 385 acres on and around nine islands, with six miles of lake shoreline. You can find thousands of tulips here in April and May especially in the Circle Garden. Its website has several garden walks online including an April walk.
Address: 1000 Lake Cook Road, Glencoe, Illinois 60022
Distance from Chicago: 24 miles north of Chicago
Lilacia Park, Lombard
Lilacia Park is an 8.5-acre park in Lombard with lilac and tulip gardens in the spring. You can see over 50 kinds of tulips.
Address: 150 S Park Ave, Lombard, IL 60148
Distance from Chicago: 23 miles west of Chicago
Cantigny Park
The Tulips have just started their show for Spring… pic.twitter.com/5Lr1hz6ATw

— CantignyPark (@CantignyPark) May 5, 2020

Cantigny Park is a 500-acre public park in Wheaton, Illinois. It is the former estate of Joseph Medill and his grandson Colonel Robert R. McCormick, publishers of the Chicago Tribune. You can see tulips here late April/early May.
Address: 1 S 151 Winfield Road, Wheaton, IL 60189
Distance from Chicago: 34 miles west of Chicago
Phillips Park Sunken Gardens
Over 10,000 tulips are planted at Phillips Park Sunken Gardens in preparation of the springtime bloom, which usually occurs in early to mid-April.
Phillips Park, a magnificent 325-acre urban park is also home to Phillips Park Zoo, Phillips Park Family Aquatic Center, Phillips Park Golf Course, play areas, and a lakeside walking and running trail.
Address: Ray Moses Dr, Aurora, IL 60505
Distance from Chicago: 43 miles west of Chicago
Kuipers Family Farm
Kuipers Family Farm will be hosting their Midwest Tulip Fest for the second year. They have planted 500,000 tulip bulbs in a mixture of color across 5 acres. The flower fields will be fully accessible for strolling through and taking pictures. They will also have specific fields set aside to cut tulips. Admission to the Midwest Tulip Fest will also include access to some of their feature activities on the FunFarm. Tickets will go on sale in the spring and will be available online in advance or at the gate.
Address: 1N318 Watson Rd Maple Park, IL 60151
Distance from Chicago: 57 miles west of downtown Chicago
Dates:  Opening day is Tuesday, April 25, 2023.
Check their Facebook page for updates.
Richardson Adventure Farm
Richardson Adventure Farm will be hosting its third Richardson Tulip Festival this spring and have planted 300,000 new bulbs this year (plus last year's bulbs will be popping up). They have 30 different varieties – 500,000 tulips are in colorful blocks with a central design for pictures and 100,000 tulips are mixed colors in a pick-your-own area. The tulips are planted near their own, private 36 acre lake for a beautiful setting. Friendly dogs on a leash are welcome.
Admission includes entrance into the flower field, access to the picnic area around Richardson Lake, an activity area, live music on the weekend, and more! Flowers, food items, and memorabilia are available for an additional fee.
Address: 909 English Prairie Rd, Spring Grove, IL 60081
Distance from Chicago: 65 miles northwest of downtown Chicago
Dates:  The tulip fields will  open Thursday, April 27, 2023 at 11:00am. Check their Facebook page for updates.
Tulip Fields & Festivals in the Midwest
If you are looking for a weekend getaway from Chicago in early May, these small Dutch towns in the Midwest are home to two of the best tulip festivals in the US.
Tulip Time Festival in Holland, Michigan
Tulip Time Festival is an annual festival held in Holland, Michigan and you can see millions of tulips in local parks, attractions and lining the streets. The Tulip Time Festival has been held every year in mid-May since 1929 and is currently the largest tulip festival in the United States.
Dates: May 6 – 14, 2023
Distance from Chicago: Holland, Michigan is located 150 miles from Chicago (close enough for a day trip from Chicago)
Tulip Festival in Pella, Iowa
Pella, Iowa is celebrating its Dutch heritage and 300,000+ vibrantly blooming tulips. In addition to admiring tulips, you can enjoy delicious Dutch foods, performances, museum tours and more.
Dates: May 4 – 6, 2023. You can find detailed information and a schedule of events here.
Distance from Chicago: Pella, Iowa is located approximately 315 miles west of Chicago (44 miles from Des Moines)
Have you visited any tulip fields in and near Chicago?