If you live in or near Wisconsin and googled "sunflower fields near me" you are in the right place. There are several beautiful sunflower fields and farms throughout Wisconsin for those that want to enjoy being in nature or take photos for instagram. Keep reading for a list of the best sunflower fields in Wisconsin.
Sunflower Fields in Wisconsin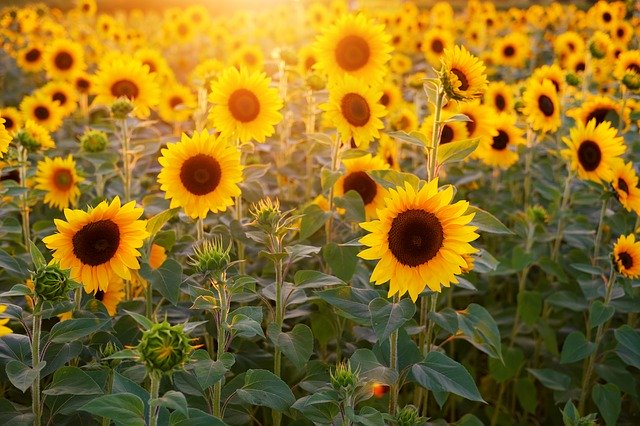 Below is a list of sunflower fields in Wisconsin. I have included useful information you need to plan your visit, including addresses, hours, dates as well as links to their websites and facebook pages. Note: Some sunflower farms close the mazes to the public after rain/bad weather so make sure to check their facebook pages and/or websites for the most up to date hours, dates and weather related closures before you go.
Sunflower Farms in Southeast Wisconsin
There are several sunflower fields located near Chicago and Milwaukee in Southeast Wisconsin. These sunflower fields and mazes make for a great day trip from Chicago or Milwaukee in the summer and early fall.
Thompson Strawberry Farm
Where: 14000 75th Street, Bristol, Wisconsin 53104 (about 10 miles from Kenosha and 36 miles from Milwaukee)
Dates: They have a long sunflower season- from mid-July-October 2022.
Hours: Open 10:00am-6:00pm every day (weather permitting)
Cost: Admission is $12.00/adult and $6/child (3-10). Each paid admission fee includes 6 flowers for you to bring home with you. Additional flowers cost $10 for an extra dozen. There is no extra charge for professional photographers but the farm asks to be tagged in photos. There are also extended hours for photo sessions if you message them on facebook.
​Thompson Strawberry Farm has planted over 4 million sunflowers on 30 acres. They have paths that are cut out of the field for you to walk around. They have also doubled their zinnias and wildflowers from last year. ​Don't forget to bring something to cut the flowers with as well as a vase or bag to put them in (water will be provided for your flowers).
Jelli's Market
Address: N5648 S Farmington Rd, Helenville, Wisconsin 53137 (located about 42 miles from Milwaukee and Madison)
Distance from Chicago: About 130 miles northwest of Chicago (2 hours drive)
Dates: The sunflower field is opening August 3, 2022 for approximately 10 to 14 days. The sunflowers are in full bloom and this weekend will be the best time for pictures.
Hours: Open daily from 7 am to 7 pm.
Cost: Admission into the sunflower field is $7/person (which includes a free sunflower to take home with you). Kids 4 and under are free.
Jelli's Market has a sunflower field as well as blueberries to pick, and sweet corn for sale in their farm store and off farm produce stands.
Check their facebook page for updates.
Lannon Sunflower Farm
Address: W204N8525 Lannon Rd, Lannon, Wisconsin 53051 (about 24 miles northwest of Milwaukee)
Dates: Opening mid July in 2022.
Hours: 8am-7pm daily
Cost: $20 admission per vehicle which includes 12 U-Pick Sunflowers (while supplies last). There is an additional charge for corn maze, pumpkins and raspberries (they supply containers to pick in). They are not setup to accept electronic payments.
Lannon Sunflower Farm has 8 acres of sunflowers. They have a wild flower area just for viewing and taking pictures (no picking here – flowers reserved for pollinators). Well mannered dogs on a leash are welcome. Be sure to bring own clippers or scissors (they have a few extras if you forget) to cut your flowers and a vase, bucket, bag or container to bring them home in. They will also have a kids corn maze and wildflower gardens.
Check their facebook page or call 414-803-1542 for most current information.
Shimon Sunflower Farm
Address: 2575 County Road Cc, Slinger, Wisconsin 53086 (located about 34 miles from Milwaukee)
Dates: They are opening July 23, 2022.
Hours: 10am-7pm Sunday-Friday and 9am-7 pm Saturday
Cost: Admission is $20 per car which includes 12 u-pick sunflowers. $2 for additional sunflowers.
Shimon Sunflower Farm, which started growing sunflowers for the first time last year, will have 19 different types of sunflowers this year and some beautiful photo opportunities. Photographers can contact them to take pictures outside of their regular hours. Pets are not permitted.
Check their instagram and facebook for regular updates.
Jerry Smith Farm
Jerry Smith Farm's sunflower field is projected to open August 2022.
Check their facebook page and instagram or call (262)-221-9332 for current updates.
Address: 7150 18th Street (Highway L), Kenosha, WI 53144 (The Sunflower field is located EAST of the Jerry Smith Farm Country Store this year, on Highway L, near the railroad tracks. You can drive down to the field to park, or park across from the field and carefully walk across the street.)
Dates: Their sunflower field opens August 2022.
Hours: Open daily Monday–Sunday from 8:00am-Sunset.
Cost: It is FREE to visit and take pictures. The cost is $1 for every flower you cut and take home. Bring scissors/shears and water for your flowers as these will not be provided.
Sunflower Farms in South Central Wisconsin (Near Madison)
These sunflower farms are located near Madison and are also close to the Illinois border.
Eugster's Farm Market
Where: 3865 WI-138, Stoughton, WI 53589 (located about 15 miles from Madison on State Hwy 138 between Oregon and Stoughton)
Dates: 2022 dates have not been announced. Their Sunflower Dates last year were July 25- August 15, 2021.
Hours: Open 6 days/week and closed on Tuesdays. Hours are 10 am – 5 pm. Last ticket is sold one hour before closing.
Cost: Admission is $7.50 per person (age 1 and under is free). Admission includes strolling through the sunflower field, wagon ride to the sunflowers, acess to their U-Cut flowers and 15-acre petting farm. Cash and credit are accepted at entrance building windows. There are no online tickets for this event.
Eugster's Farm Market is hosting their 5th annual Sunflower Days where you can enjoy over 500,000 sunflowers across 15 acres. They have to rotate ther sunflower crop, so they will be in the field that is further away (the same as 2019). Due to the distance, a complimentary wagon ride will be available. There will be have ample parking available and offer handicap parking near the sunflower field. Professional and amateur photographers are welcome during open hours, there are no private appointments.
Check their dedicated sunflower page on their website or facebook page for the most current information.
Skelly's Farm Market
Skelly's Farm Market has planted approximately 5 acres of beautiful yellow sunflowers for you to walk through and enjoy. They have 3 special areas in the sunflower field: the walking area, the cutting area, and the specialty flower area. Their walking area is around 4 acres and features "prop stops," 2 viewing platforms and opportunities for photos! These prop stops are little areas cut out off the main path and include items you can use for picture props and backgrounds (examples: straw bales, ladders, rustic fences). The cutting area is used only for picking out sunflowers for cutting to take home with you! Lastly, the specialty flower area is around a quarter acre of more than 20 different varieties of sunflowers and is located right at the entrance of the walking field. Enjoy multi-colored flowers, branching flowers, short and tall flowers and flowers with large and small heads! This area is not used for cutting. Professional photography is allowed in their field during business hours.
This year, they will have two paint 'n sip coffee classes, four days of professional photography sessions, and a butterfly release (brand new for 2022).
Tickets are now on sale for their special events and general admission. General admission tickets will be available at the gate, but special events are only sold online.
Check their facebook page and dedicated sunflower page on their website for most current information.
Where: 2713 South Hayner Road, Janesville, WI 53548 (located about 40 miles from Madison)
Dates: Their 2022 sunflower field will be open August 4 – 12. They might be open a few more days after August 12, depending on weather.
​​Hours: Daily 9am – 8:30pm, last entry at 7:30pm.
Cost: Every guest age 4 and older must pay admission (3 and under are free). There are three admission levels with at least one flower included in your admission price. The lowest price admission level is the Single Flower Experience: $9/child ages 4-12 or $12/adult ages 13+ includes admission to the field, 1 cut sunflower to take home, a choice of donut from their bakery, and 10% off sunflower gifts in their retail barn. They also have the option to buy additional flowers to take home for $2/each or $6/6 flowers.
Sunflower Fields in Central Wisconsin
Field Across from REI Engineering
Address: Across the the street from REI Engineering, 4080 N 20th Ave, Wausau, WI 54401
Dates: The sunflowers are yet to bloom, but there are wildflowers.
Hours: Open to the public anytime.
Cost: FREE
Check REI's facebook page for updates.
Pumpkin Hollow
Address: 5060 County road H Edgar, WI 54426. Located 1 mile north of hwy 29 on cty rd H Edgar exit.
Dates: Open July 29 through October 31. Best date for photos is early August through early September, 2022.
Hours: Sun up to sun down 7 days a week.
Cost: Sunflowers $.25 a bloom and cut flowers $.10 a bloom.
Flowers at Pumpkin Hollow are ready for picking with lots of colors and many other flowers to choose from as well. From now through early September there will steady blooms for picking. Any photographers booking sessions with clients are asked to use their booking APP for sessions.
See their facebook page for updates.
Kelley Country Creamery
Where: W5215 County Road B, Fond du Lac, WI 54937
Dates: Their 5th annual "Sunflowers Taking Flight" is open July 25 to August 6, 2022.
​Hours: Sunflower field is open 11:00 am to 8pm.
Cost: There is no admission fee to visit the sunflower field, but a suggested donation ($3 per person) is requested. Cash only. They will be offering a five sunflower bouquet for a suggested donation of $10. 100% of all donations go to the Old Glory Honor Flight. A $50 site fee is required for professional photo-shoots or anything for monetary gain, which is donated in its entirety to the Old Glory Honor Flights. Here is a link to their picture taking policy.
Kelley Country Creamery is a dairy farm with pastured cows and award-winning ice cream. Guests are NOT allowed to pick or cut the sunflowers.
Check the sunflower status on their facebook page and dedicated sunflower page before your visit.
Sopa Fairview Farm
Address: 8290 Old Amish Rd, Amherst, WI 54406
Dates: They expectt to open August 6 or 7, 2022.
Sopa Fairview Farm has approximately 500,000 sunflowers in their field. See their facebook page for updates.
Sunflower Farms Near Green Bay
Bergsbaken Farms
Where: W2095 County Road E, Cecil, WI 54111 (about 28 miles from Green Bay). Please park in the designated parking area only.
Dates: Sunflower Fest is July 29 -31, 2022
Hours: 10am – 4pm
Cost: $2 suggested donation per person; pick your own sunflowers in the designated area: 1 for $1 or 6 for $5. Put payment in one of the donation boxes. (There is a $25 fee for professional photography sessions.)
Bergsbaken Farms has four sunflower trails with viewing platforms and plenty of perfect picture opportunities. Dogs are welcome. Opening weekend will feature a vendor fair, live music, firetrucks, wagon rides, kid activities (bounce houses, corn pits, face painting, balloon animals), raffle and concessions available to purchase.
Check their facebook page for updates.
Have you visited any sunflower fields in Wisconsin?